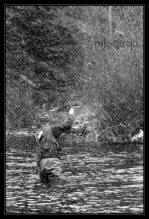 Blue Wings in a Blizzard
Often the best blue wing olive hatches happen during inclement weather. Justin Theodorakos casts to risers on the Blue.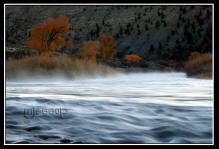 Early Morning Mist
The Colorado River in Fall.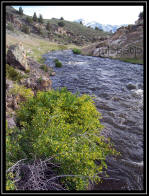 Hot Creek, California
Hot Creek should be on every angler's "to fish" list.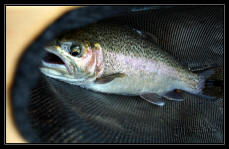 Wet Net
Any fish in the net is a good fish.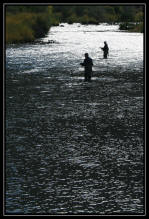 Riffle
A day spent on the river with friends always makes for good memories. Brothers Jake and Pete Chambers fish a nice riffle in Oregon.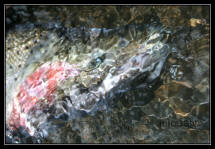 Spring Steel
Spring Steelhead fishing on the Oregon Coast.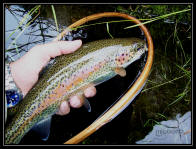 McKenzie River Rainbow
Oregon's McKenzie River offers outstanding dry fly fishing for beautiful rainbow trout.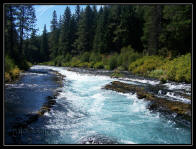 Metolius River, Oregon
This large spring creek is a very unique fishery and will test any anglers merit.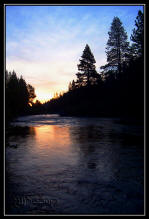 Truckee River, California
I enjoy being on the water at sunrise, even if nothing is hatching.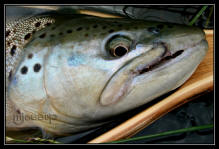 Mug Shot
This brown trout definatly filled up my net. The fish took a #18 black AP nymph.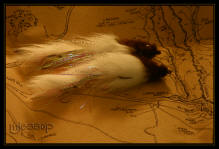 Streamers
White is by far my favorite color for streamer patterns. These flies were tied to mimic sick or wounded hatchery fish.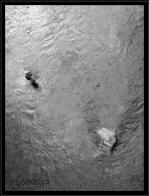 Current Seam
Kortney Kirkeby fishing a nice seam on the Roaring Fork.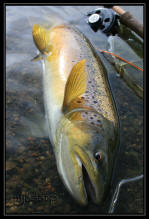 Streamer Eater
Streamers fished to undercut banks often yeild pleasing results.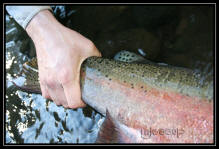 Handful
Pete Gruendyke tails an 18lb Steelhead.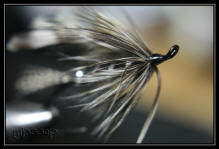 Silver Hilton
A classic steelhead pattern.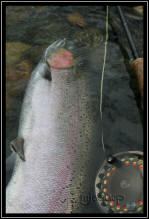 Trinity Steelhead
Northern California's Trinity River has a great run of winter steelhead.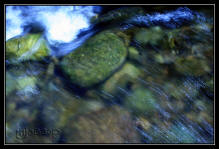 Stream Rocks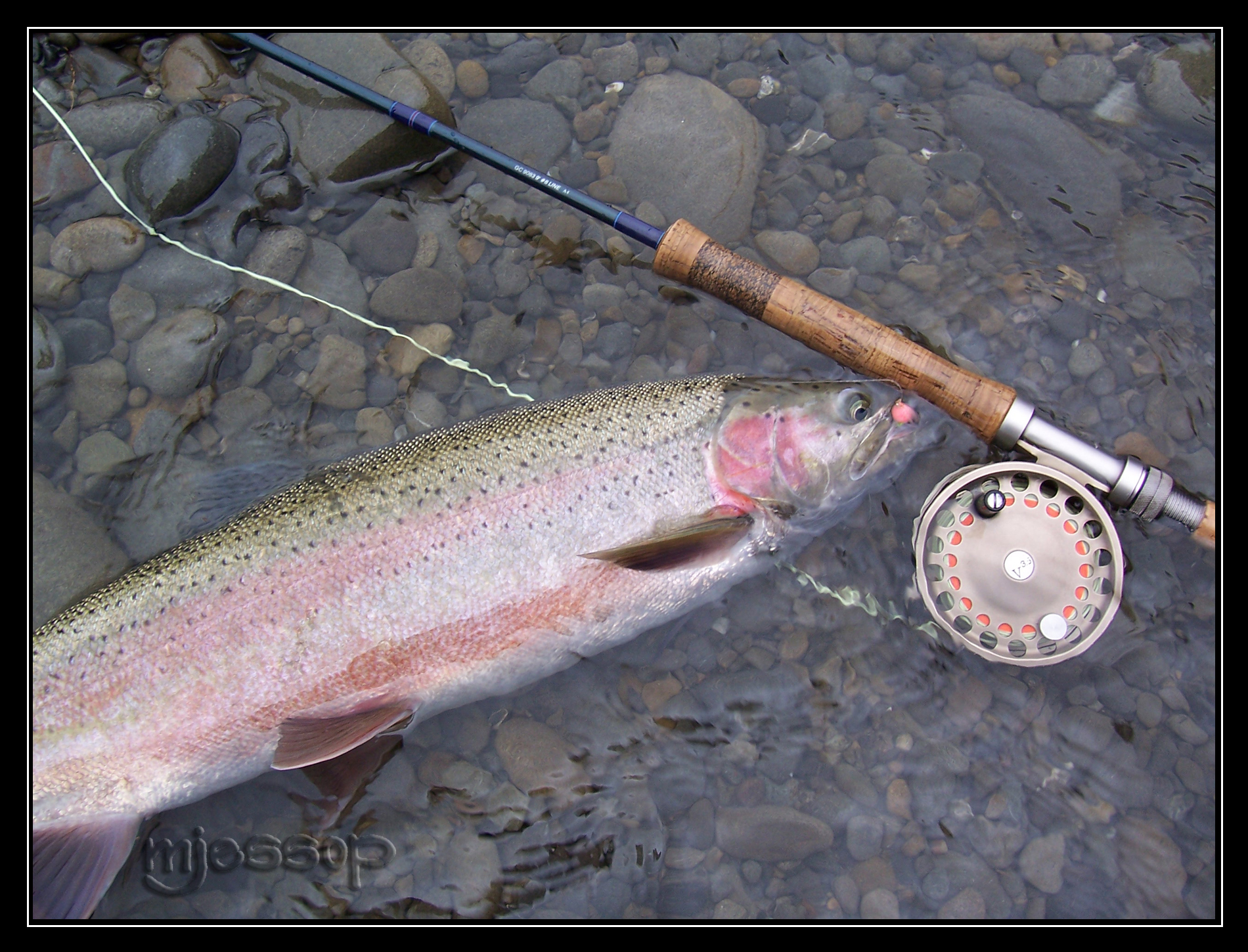 Olympic Peninsula
Washington's "OP" has many world famous streelhead waters.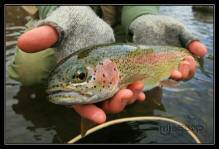 Omykiss
Rainbow trout of any size are beautiful. Kortney Kirkeby cradles a dun sipper.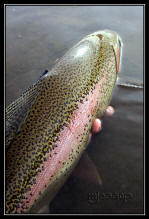 Shoulders
Trout of this size will put a good bend in a 4 wt., and will test your knot tying abilities.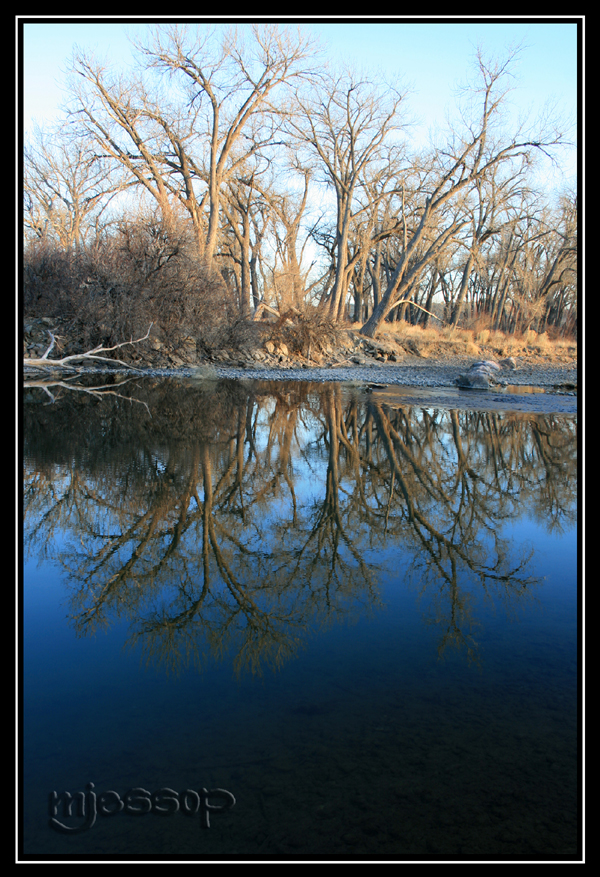 Reflections on the Arkansas River
The Arkansas River below Pueblo Reservoir provides some outstanding dry fly fishing during the winter months.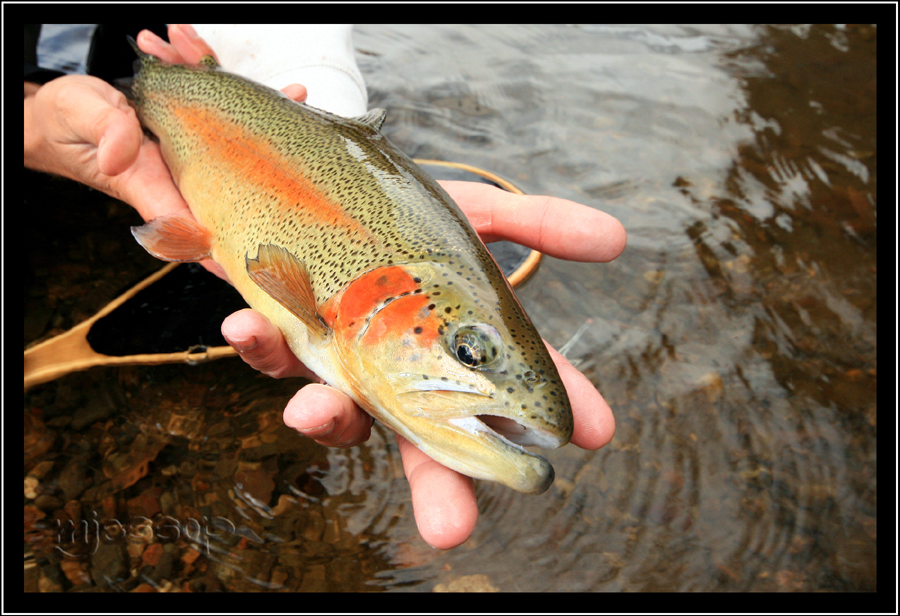 Blue River Rainbow
Fishing the blue wing olive hatch in the fall can result in some memorable days on the river.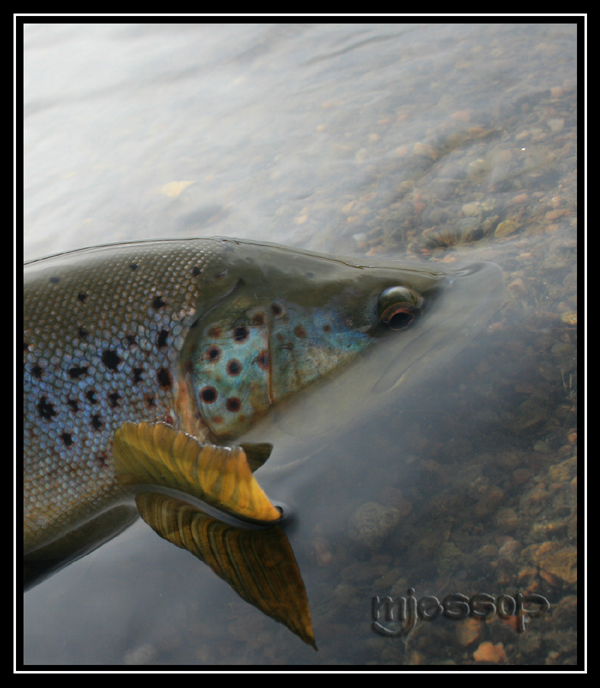 Winter Brown Trout
Throwing large streamer patterns is a great way to target large browns.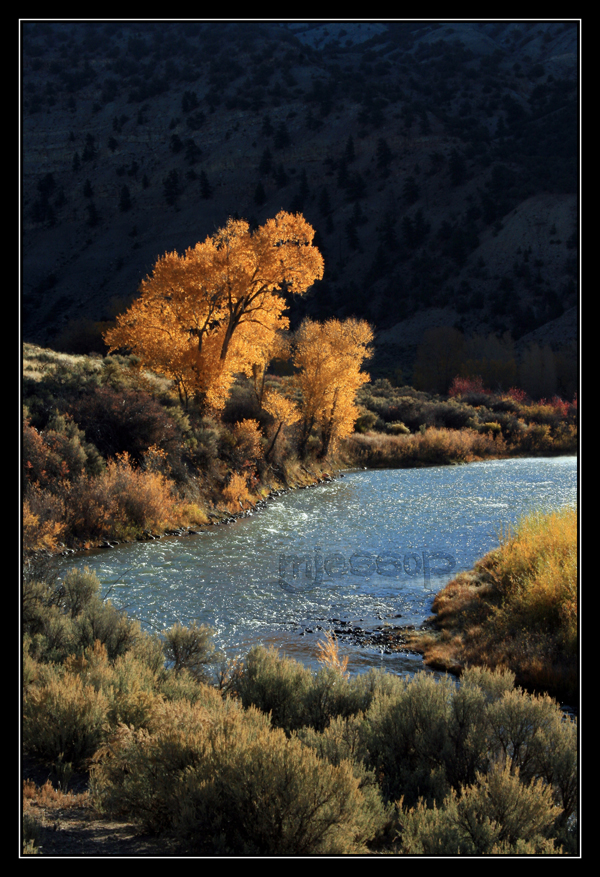 The Colorado River
Fall is a fabulous time for fly fishing Colorado.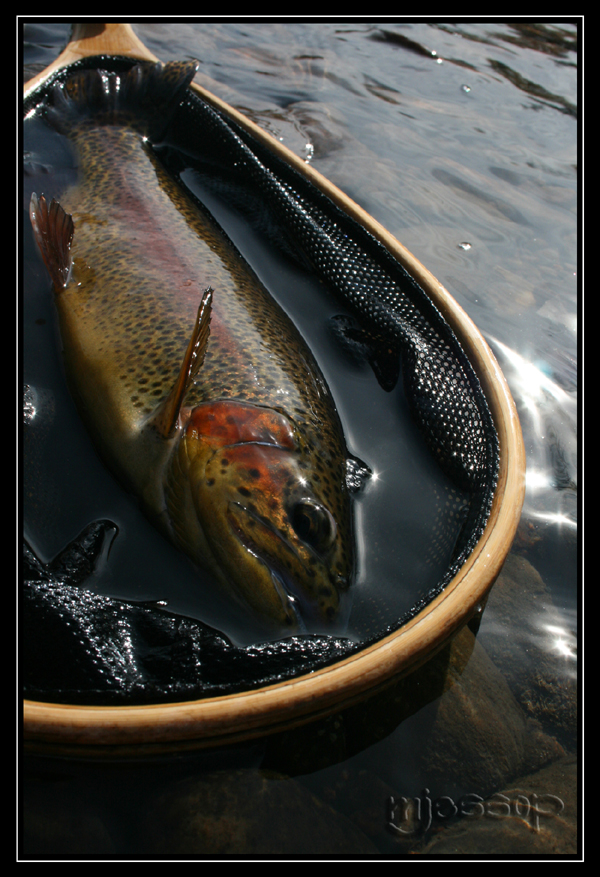 Colorful Rainbow
A healthy rainbow to net.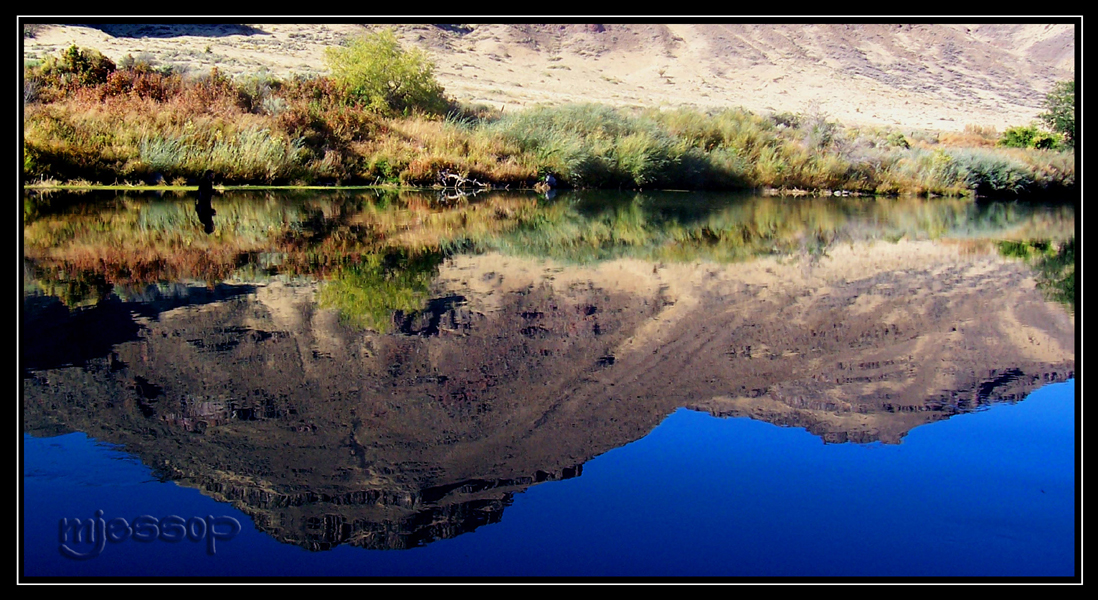 Desert Fly Fishing
Unfortunately, I can't tell you where this is at, but there are plenty of monster browns eager to take dries in this pool.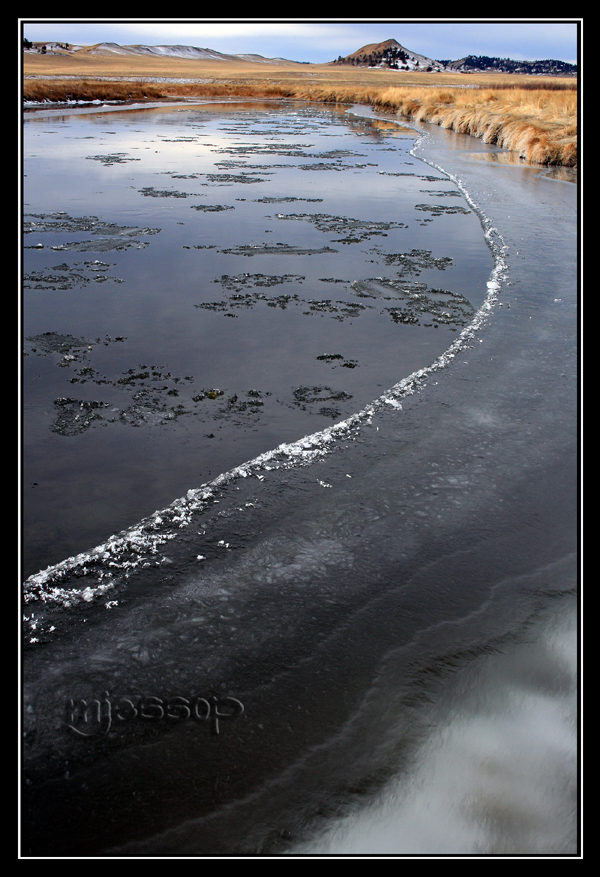 The "Dream Stream"
This section of the South Platte River is home to some extradonary trout.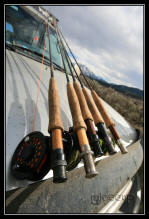 The Arsenal
Three guys, five rods, spring on the Roaring Fork.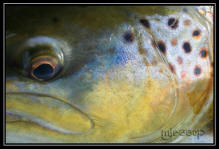 Brown Trout Face
The colors found on the gill plates of brown trout are stunning.